Show your home some love
14th February 2018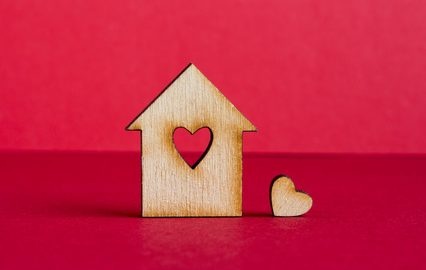 This Valentine's Day, show a bit of love to your home. Whether you'd like to create a fresh, vibrant or romantic feel in your home, it's easy to show it a bit of TLC in an easy and cost efficient way. Here are some of our top tips to show your home some love on the most romantic day of the year.
Flowers
The most romantic way to add a pop of colour to a room has to be freshly cut flowers. Not only do they say 'I love you' but also bring a home to life. Plus, they're perfect for those on a budget, a bunch doesn't have to cost a fortune and will spruce up your home in the springtime.
You can go for the classic red roses, or any simple or elaborate bouquet. Use the flowers to brighten a main room or split them up among tiny vases placed throughout your home.
Enjoy a new scent
Introduce a fresh new welcoming scent with luxury candles and home fragrances. A subtle floral perfume will create a relaxing and homely feel and reflect on the changing season.
Looking for a scent for your kitchen? Avoid florals and go for a fruity zing. In the bedroom try a luxury musky candle to radiate romance.
Give your home a pamper
You're not the only one who enjoys a relaxing pamper! Start your spring clean early this February to give your home some TLC. Focus on areas that are normally overlooked such as windows, skirting boards and cupboards. Consider hiring a professional service to go over the entire place or just focus on one aspect such as the carpet or windows.
Protect what you love
Do an annual review of your homeowner's insurance policy to make sure you have the correct policy and enough coverage for your home and belongings.
Introduce colour
Treat your home to some new accessories, consider new throw pillows or a stylish vase, or add decorative ornaments to transform the feel and look of your home. If your budget can accommodate something a little bigger, consider replacing an appliance or splurging on a dramatic new piece of art. These are very effective ways to breathe life into your home after a long and dark winter.