Secure Your Home
15th October 2018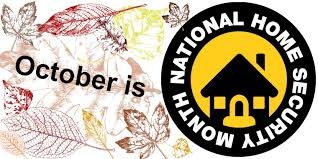 With the pressures of day-to-day life, home security is often overlooked.
To raise awareness around the importance of home security October is National Home Security Month.. Be safe in the knowledge that your home, family and belongings are protected.
---
Need help with your home security but don't know where to start? We have complied some safety tips for your home.

Kitchen
Inspect Appliances
Safety hazards abound in the kitchen, and appliances can be the biggest culprits. Give each appliance a thorough test run to identify any potential safety hazards due to damage, improper installation, or age.
Make Sure Circuits Aren't Overloaded
Refrigerators and other major appliances can use up a lot of energy and trip your home's electric. If the circuit trips too often it can overheat
Install Safety Latches
If you have small children or pets, make sure they can't get into dangerous household items like cleaners or knives. Add safety latches or locks to cupboards and drawers that house dangerous items.
Purchase a Fire Extinguisher
Almost half of all home fires are caused by cooking equipment. Protect your home and loved ones by purchasing and learning how to use a fire extinguisher.
Test Smoke and Carbon Monoxide Detectors
The kitchen should have both a smoke alarm and a carbon monoxide detector. Test both (along with all others throughout the house) and make sure the sensors are free of dust, which can interfere with proper detection. Change batteries if needed, or purchase a new smoke alarm and CO detector if yours are old or seem faulty.
Bathrooms
Inspect Pipes
Check pipes for rust, corrosion, and signs of leakage.
Locate Main Shut-Off Valve
The main shut-off valve for your home's water system will likely be under the bathroom or kitchen sink. Find it and turn it off to make sure it's in good working order. When the valve is turned off there should be no water coming out of any of the home's water outlets.
Purchase a First Aid Kit
No matter how careful we are, accidents happen. Be prepared with a fully-stocked first aid kit that includes bandages, gauze, medical tape, and antiseptic.
Secure Medications
Make sure prescription and over-the-counter medications don't fall into the wrong hands. Keep them in a locking medicine cabinet or box, and properly dispose of all unused medications.
Prevent Falls
We all know that slipping in the bath or shower is a common household accident. Make your bathroom safer by adding non-slip decals, grab bars, and non-slip bath mats.
Hallway & Landing
Check Smoke and Carbon Monoxide Detectors
There should be a smoke alarm and carbon monoxide detector on every floor of your new home. In addition to the kitchen, make sure all sleeping areas are covered.
Secure Rugs
Prevent people from tripping over rugs by adding non-skid mats or adhesive tape to keep rugs in place.
Add Nightlights
Make sure people don't stumble down dark hallways. Add nightlights for safe passage after lights-out. Lights with motion sensors make your hallways safe and ensure that lights won't disturb others or waste energy.
Bedrooms/Living Spaces
Check Plug Sockets
Inspect plugs and light switches for missing or cracked covers, and replace or install as needed. If a cover is missing, check to make sure the contacts aren't exposed. For homes with small children, add childproof outlet covers to protect little ones as they explore your new home.
Get a Safe
Put important documents and small valuables in a fireproof safe. Include birth certificates, financial records, social security cards, and other valuable items like jewelry or collectibles.
Hire a Chimney Sweep
A crackling fire is wonderful on a chilly night, but an errant nest or other debris in the chimney can turn that cozy scene into a disaster. Before using any fireplace or wood stove in your new home, have it professionally inspected and cleaned. And don't neglect gas fireplaces—have gas logs cleaned and make sure all vents are unobstructed.
Garage
Get to Know the Electrical System
Locate the main trip switch panel for your home. Test the circuits to make sure everything is working properly. Label what each breaker control is to make things easier if the power goes out or the electric trips. Older homes may still use fuses instead of breakers—which can be less safe—so seek advisement from an electrician in that case.
Insulate Exposed Pipes
Cold temperatures can cause pipes to freeze and burst. Make your pipes winter-ready by insulating them against frigid temperatures. Use fiberglass, tubular pipe sleeves, or foil insulation to wrap the pipes.
Check for Drafts
Drafts around windows and doors can signal a potential security risk. Loose weather-stripping or other faulty installation can make it easier for a burglar to enter your home. Inspect all outside access points, and make sure they're sealed up tight.
Check Window and Door Locks
Ensure that all windows and exterior doors open easily and lock securely. Add extra peace of mind with window or door sensors in areas that are rarely used.
Add Proper Lighting
Check that there's enough lighting in the garage and outside to help prevent falls.
Lock up Hazardous Materials
Fertilizers, paint, weed killer, oil, and pesticides need to be locked up or stored up high to avoid an accidental poisoning. Never put leftover paint or other hazardous materials in juice or milk cartons, and keep everything clearly labelled.
Outside
Change the Locks
Replace locks on every exterior door. For added security, upgrade to smart locks with keyless entry and remote control.
Add Security Lighting
Install security lights to keep burglars at bay. Lights with motion detection provide safe passage on walkways and in doorways, and they help stop intruders in their tracks. Smart lightbulbs are another way to upgrade your lighting and improve security—imagine the added safety when you can control exterior lights from your smartphone.
Inspect Gates
Make sure all gates are in good repair, close tightly, and have a secure latch that can't be tampered with.
Repair Exterior Damage
Closely examine all exterior borders and buildings, including fences, sheds, and decks. Make repairs to preserve structural integrity and avoid hazards like tripping.
Prune Plants and Trees
Unkept hedges and trees give burglars a handy spot to hide. Make your garden less tempting by keeping bushes and trees neatly trimmed. A well-kept garden is also a sign that the house is occupied, which can make a big difference if your new home was on the market for a long time.
Research Security Cameras and Alarm Systems
Burglars have reported that they skip homes with security cameras and alarm systems. Find out what security systems are available, and identify which type makes the most sense for your home.
Add a Smart Garage Door Opener
You'll never leave the garage door open again when you add a smart garage door opener that you can open and close through an app on your mobile phone. Smart garage door openers send you alerts if you left the door open and allow you to monitor the garage from wherever you are.
Secure Tools
Don't leave landscaping tools scattered across the lawn, even during the chaos of moving in, take time to find a secure spot to lock up lawn mowers, trimmers, and other tools.
Make House Numbers Visible
Be certain that emergency services can easily find your home. Add numbers that can be seen from the street. And make sure your house number can be seen after dark—add a light or use luminescent numbers.
Top tip! Don't share your plans for the festivities on social media until after the event. Burglars can use this information to know when your home will be left empty and vulnerable.