Property professionals launch new agency in Belfast
14th September 2017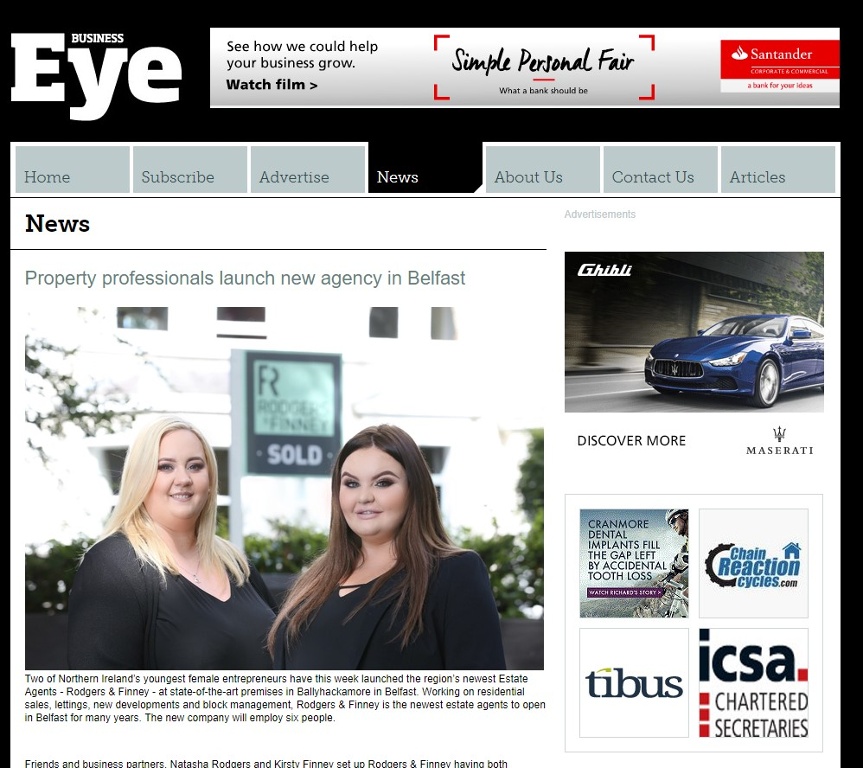 www.businesseye.co.uk | 14-09-2017
Two of Northern Ireland's youngest female entrepreneurs have this week launched the region's newest Estate Agents - Rodgers & Finney - at state-of-the-art premises in Ballyhackamore in Belfast. Working on residential sales, lettings, new developments and block management, Rodgers & Finney is the newest estate agents to open in Belfast for many years. The new company will employ six people.
Friends and business partners, Natasha Rodgers and Kirsty Finney set up Rodgers & Finney having both previously worked at leading agents in the property sector. Kirsty (29) was awarded Young Agent of the Year 2016/2017 by Property News, while Natasha has many years of experience and long standing family ties to the property industry.
Speaking at the launch at their East Belfast office, Kirsty Finney outlined: "We've worked hard to create a service that is personal, professional and tailored for all of our clients - whether they are sellers, buyers, landlords or tenants. We are delighted to finally be able to unveil our new brand and premises to customers, whether they're first-time buyers, retirees looking to scale down, and everyone in between.
"There is no better feeling than finding someone their dream home, somewhere they feel safe, content or somewhere they can see themselves raising a family. We are really passionate about property and know the real impact it can have on people's happiness."
Rodgers & Finney offer an array of services, including sales, rentals, block management and corporate relocation
Natasha Rodgers added: "While our business is new, we do have many years of experience and our own unique style of service. No two days are the same and from sourcing homes for businesses, individuals and sports stars to making sure a new mover to the city can settle quickly, we both get immense satisfaction from working with people to buy a house and make it their home."
"Kirsty and I are both under 30 so we're really proud to now have our own business with our names above the door. It's an exciting experience and I can't imagine doing anything else with anyone better than one of my closest friends."
For more information on Rodgers & Finney and to view their properties visit www.rodgersandfinney.co.uk