How To: design a beautiful entrance hall
26th June 2019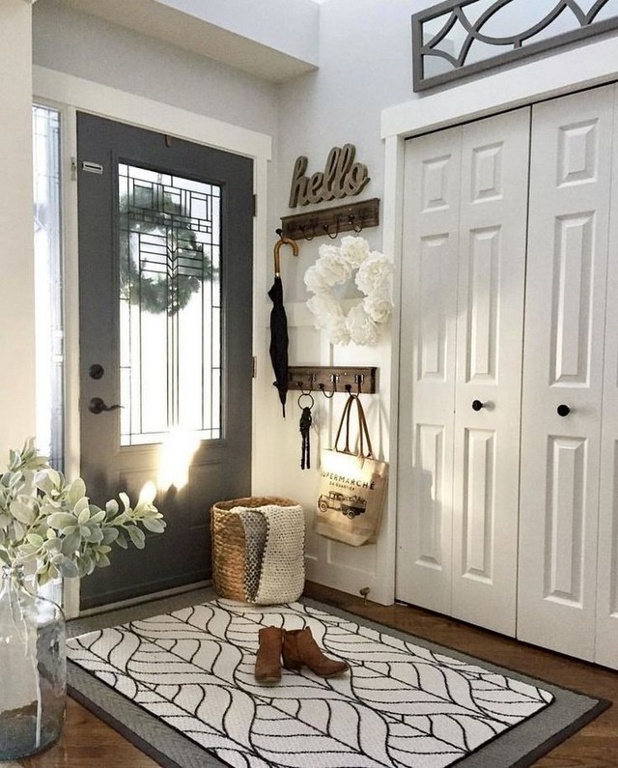 So much more than just an entranceway, a beautifully lit and decorated hallway sets the tone for the rest of the house. It also introduces your own interior style to guests as soon as they step through the door.
Hallways can often be narrow and sometimes lack a focal point, but they create an important first impression. From a palette of bright colours to dark navy hallways with an edge of grown-up glamour, and lighting effects to add drama to a space check out these decorating ideas and be inspired…
1. Go for glamour
A large, dramatic or arty ceiling chandelier will make your hallway a destination in and of itself. A big theatrical piece will marry up well with high ceilings and ideal if you have a period home.
2. Work your wall
Consider the space when choosing lighting. Wall lamps work extremely well on a separate dimmer circuit, the addition of downlighters (or wall lamps) incorporated into your interior will also highlight key pieces.
3. A wealth of warmth
A pair of matching table lights on a console or chest of drawers adds a soft ambient glow and ensures a welcoming feel. Keep the look symmetrical for a put-together aesthetic that is pleasing on the eye.
4. Welcome to the Dark Side
Dark walls are becoming more and more popular in the modern home. It's often a misconception that dark can make a room feel reduced, which can be the case, but more often than not it creates a sense of space by almost pushing the walls out. It also depends on the light, if your hallway has a great source of natural light it could take a dark coloured wall.
To prevent the dark walls feeling too overwhelming pair with white painted woodwork and bleached wood furniture.
5. Art Attack
Choose some large-scale artwork and hang it in your hallway for an easy way to add character to your interior. Chose something you love, as you will inevitably see it a lot while moving throughout your home. Black and white designs are good choices, but you could also go for something super colourful for a lively look. Consider your wall paint colour and how it will best show off your artwork.


6. Pleasent Plants
Get back to nature with beautiful botanical plants in your hallway. It immediately brings the outside in, making the room feel fresh and more alive. Plants also do a great job of filling awkward and empty spaces.
Well-chosen plants enhance your home's look and make it feel healthier and more connected with nature.
7. Take Advantage of Architectural Details
Successful lighting is dependent on your hallway's proportions and scale. If you have ample space, be bold and go for a large-scale light, or a cluster of smaller fittings, to create a dramatic statement. Take advantage of high ceilings and experiment with lighting designs that have varied drops, as they will add interest at different levels.
---
Ready to sell your property? Contact us today for a free property valaution. 028 9065 3111